According to numerous reports —- R. Kelly was attacked Thursday night while in his cell awaiting trial on federal charges. Per reports, the disgraced singer was attacked in his cell inside the Metropolitan Correctional Centre after an inmate blamed him for prison lockdowns. Jail reports say that Kelly was attacked because inmates had claimed that his presence was in fact responsible for recent lockdowns, er, when in fact they were partially due to both Kelly and the Coronavirus.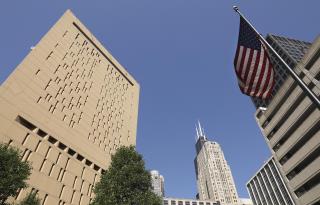 R. Kelly is being held in Chicago's Metropolitan Correctional Center, left. (AP Photo/Amr Alfiky)
TMZ claims to have gotten their hands on the jail reports that show Kelly was attacked albeit with no serious injuries. Jail officials won't directly confirm the claims presumably due to who the inmate is, although, it doesn't appear to be that far off.
Previously, a judge denied Kelly 's motion for release citing the Coronavirus.