Because well truth is despite many of the claims otherwise — allot of the "protests" have been just that protests. But as many have learned over the past 60 days, there are what are known as anarchists popping up at these protests across America. In most forms (we reported on and witnessed them ourselves in New York) they are typically white people. who otherwise aren't actually participating in the protests themselves.
Enter: Portland.
As Monday kicked off, the Trump Administration confirmed that even more federal Marshalls are headed to Portland in what they claim is a bid to protect the courthouse in question in the area. However, photographs emerging from Portland tell an entirely different story.
The Washington Post reports that the new Marshalls being sent into the area have absolutely no training in riot or crowd control almost imminently setting the stage for even more danger.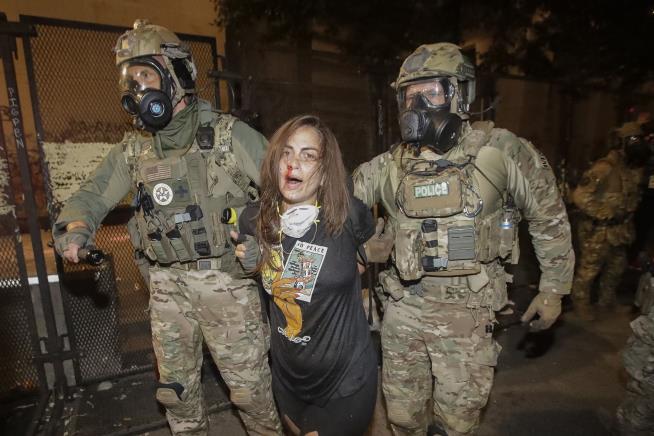 A bloodied demonstrator is arrested by federal police during a Black Lives Matter protest at the Mark O. Hatfield United States Courthouse Monday, July 27, 2020, in Portland, Ore. (AP Photo/Marcio Jose Sanchez)
Dubbed the Battle of Portland — Trump 's crackdown on those he doesn't agree with has only intensified. Fueled by hatred for minorities; black people, and anyone who isn't white — Trump 's America has become a common-sense person's most terrifying nightmare.