One of the perhaps best known home decor stores in America is no more. According to documents, Pier 1 Imports has reportedly filed for bankruptcy protections (as it attempted to do so earlier this year) but now it has emerged that they've failed to find a buyer. As such — documents confirmed that the chain will close all of its stores effectively ceasing to exist.
"Due to the combination of a challenging retail environment and the new reality and uncertainty of a post-COVID world, the company and its advisers determined that an orderly wind-down is the best way to maximize the value of Pier 1's assets."  a statement reads from the Fort Worth based company
Out of business sales are expected to begin as lockdowns are lifted across the U.S.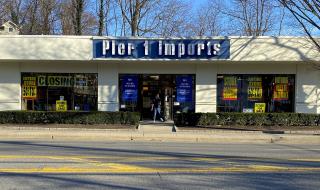 A customer steps out of a Pier 1 Imports store which was having a closeout sale, Monday, Feb. 17, 2020, in Larchmont, NY. (AP Photo/Julie Jacobson)