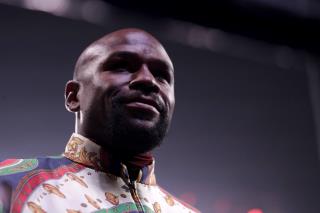 Floyd Mayweather looks on from the ring prior to a bout between Ricardo Nunez and Gervonta Davis on July 27, 2019, in Baltimore. (AP Photo/Julio Cortez)
In a bizarre find on Wednesday morning, TMZ reports that the. mother of Mayweather 's 3 kids (not the others) has been found dead.
According to TMZ, Josie Harris, 40, was found dead inn her car shortly after 9pm last night in Valencia Calif. Police sources told the website that no foul play is suspected, although it remains unclear as to how she might've died.
Harris is survived by: Koraun, 20; Zion Shamaree, 18; and a 15-year-old daughter Jirah.